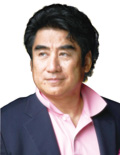 Chairman of the Future Light
Orphanage of Worldmate
TOSHU FUKAMI
(HARUHISA HANDA)
Haruhisa Handa a.k.a. Toshu Fukami was born in 1951. He attended Doshisha University where he received a degree in economics. He then went on to study with the Master Class at Musashino Academia Musicae where he graduated with a major in vocal music. Handa earned a masters degree in creative arts from WAAPA(West Australian Academy of Performing Arts) at Edith Cowan University, West Australia. He has a Ph.D in Literature from Academy of Arts & Design, Tsinghua University. He is guest lecturer at the Japan Studies Centre at Chinese national Zhejiang University Graduate School and Chancellor and Professor at the College of Arts and Humanities, University of Cambodia. He also lectures at numerous universities in the UK and China.
In Cambodia, he was conferred the title of Commander of the Royal Order of Sahametrei. He is also recipient of the Medal with Dark Blue Ribbon of Japan. He also won the Honorary Award of Contribution towards the Chinese Choral Enterprise. Handa has also received a distinguished service medal of the State of Western Australia, and the keys to the City of Perth and the City of Swan.
He established a 24-hour free-of-charge emergency hospital in Cambodia, named the Sihanouk Hospital, which is run in collaboration with a Christian organization. The hospital has treated more than 690,000 people free of charge since December 1996. He also established Cambodia's first Japanese Culture and Business Research Center in the country's only national research facility, the Cambodia Institute for Cooperation and Peace (CICP), where he serves as International Vice President and as a teaching professor. He is founder and chairman of the Asia Economic Forum. Handa is the honorary president of the Future Light Orphanage of Worldmate.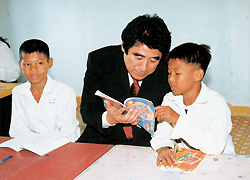 In China, an organization led by Handa has constructed one hundred "Toshu Shunrai (Spring Bud) Elementary Schools" in the poorest regions of China, in recognition of which the title of China Children-Loving Charitarian was conferred upon him by the Chinese authority. He has also become a guardian of 100 orphans of Dunhuang, supplying funds for their education. In Albania, Handa has built the first modern school in Butrint, one of Albania's poorest regions. President of the time, Rexhep Meidani, attended the school's inauguration ceremony, and Lord Jacob Rothschild was so impressed that he has paid four visits to the school so far, and has introduced it broadly at global investment conferences. Handa was also nominated as an honorary citizen of the Albanian city of Gjirokaster after funding the construction of the nation's first vocational training center there. Handa also received the title of "Citizen of Humanity" from the National Committee on Human Rights Education (AUSTRALIA) as well as being elected committee member. He also endowed the "Dr Haruhisa Handa Chair in Human Rights Education" to Curtin University of Technology in Western Australia.
Handa serves as Vice-president of Sihanouk Hospital Association in the United State. In addition to working as the Managing Director of B.C. Consulting, Co. Ltd, Handa manages more than a dozen companies both in Japan and worldwide, and as a business consultant, holds symposiums and seminars, and also publishes business commentaries.
Handa is pancratic in all forms of music and arts of East and West, performing around the world, earning critical acclaim as a "Modern Renaissance Man." He has also written a number of essays on life, culture, economics and religion, along with "Secrets for running a Small Business", "Understanding Japan", and "Lucky Fortune", which has sold over 1.2 million copies. He has written over 221 books and his works have been translated into 7 different languages. He is also a known radio personality and has significant experiences as a radio regular. He currently hosts a weekly radio program "Sawayaka This Way" (National FM).