My name is Nuon Phaly, Founder and Executive Director of the Future Light Orphanage in Phnom Penh.
Our orphanage started at Site Two, one of the largest refugee camps on the Khmer-Thai border. I worked at Site Two for almost ten years, and when we were repatriated to Phnom Penh in 1993, I founded the Future Light Orphanage on the outskirts of Phnom Penh on my own land. At the time, 90 orphans returned to Phnom Penh with me, and in incredibly diffi feed the children, send them to public school and give them supplementary Englicult circumstances we were able to house andsh education at FLO. I am not sure how we survived, but I believe my good intentions and activities were seen by God.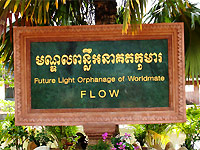 Future Light Orphanage of Worldmate
I first met Mr. Toshu Fukami in 1996, through Mr. Bernard Krisher, who was originally introduced to me by my son, Nuon Sothero. I remember vividly the first time Mr. Fukami visited our orphanage. He is a naturally kind person and has a deep sentiment for children. Immediately, he and his Bishiken group decided to provide foster parents for our children and he built a dormitory. He also built a computer room with 30 Macintosh computers from Japan, and he supported the hiring of computer teachers to work with our children . In order to show our gratitude to Mr. Fukami we presented him the high title of Principal and to us, he is the Honorable Toshu Fukami.
Beginning with that first visit, Mr. Fukami visits us every year, and sometimes he visits us several times a year. He always brings gifts from the foster parents in Japan, and generous gifts of his own. From 1996 to 1999 he supported a cumulative total of 320 children, many of whom have now gone to the provinces to teach children about computers. Some of the other children have now gone on to lead fruitful lives in various jobs.
The original Bishiken Dormitory, which was built out of wood, has now become tattered and has reached the end of its useful life. Because of this, the Worldmate group recently built a new, concrete dormitory called Worldmate House, which was inaugurated on January 24, 2006. 150 members of Worldmate came to Phnom Penh for the inauguration of the building.
More recently, we have been honored to establish a direct connection between FLO and Worldmate, and we have changed the name of our orphanage to FLOW (The Future Life Orphanage of Worldmate). We are honored and blessed to deepen our relationship with Worldmate and the Honorable Toshu Fukami.
Thank you.